People get hurt on the job all the time and a workplace injury is unpredictable. This is especially true for industries that involve a lot of physical labor. Imagine a truck driver who spends years climbing in and out of their vehicles. The odds of them suffering a back or knee injury is high. The same is true for people who work with heavy equipment. If the equipment isn't working properly, a worker can suffer all sorts of injuries. It's times like this when you need to talk to an experienced Cincinnati workers' compensation lawyer.
What many people don't realize is that there are certain things they need to do immediately following a workplace accident. Every company has its own policies and procedures when it comes to workplace injuries. You likely had to sign a copy of this policy when you were hired. If you don't follow this procedure perfectly, your workers' comp claim can be denied. Rather than have this happen, pay attention here as we discuss the steps you need to follow immediately following your workplace injury.
Make Sure You Report the Injury to Your Human Resources Manager
One of the most important things you need to do is report the accident to your manager. They'll have you fill out an incident form and submit it to Human Resources. If your manager isn't available or didn't witness the event, you can report it directly to Human Resources yourself.
If you don't report the accident right away, there's no way to document the event. You may walk away from that accident feeling okay only to find out later that you were hurt. If you want your medical care to be covered, then it's important you document that incident with your employer.
Take Pictures of the Accident Scene if Possible
Depending on the circumstances surrounding your accident, you may or may not be able to take photos. Ideally, you'll be in a position to take pictures or even a video of the scene. For example, if you fell on a broken step in a warehouse, you can take a picture of the condition of the step. Or, if a shelf full of heavy packages falls on your head, you can take a picture of the contents on the floor.
Some companies have cameras installed all over their premises. There's a good chance your accident was caught on video. If that's the case, make sure to let your Cincinnati injury lawyer know. This way, they can subpoena a copy of the video from your employer if necessary.
Go to the Doctor Immediately After You Report the Injury
It is crucial that you seek medical care immediately after your workplace accident. Your employer should arrange this for you. They'll have an ambulance take you to the hospital to be checked out. Once your initial concerns are addressed, you'll need to see a company-approved doctor.
It's important that you don't see your regular doctor for a workplace injury. You need to be treated by whichever doctor you are told to see by your employer. The Ohio workers compensation commission has certified certain doctors to treat workplace accident victims. If your doctor isn't on this list, your medical care won't be covered.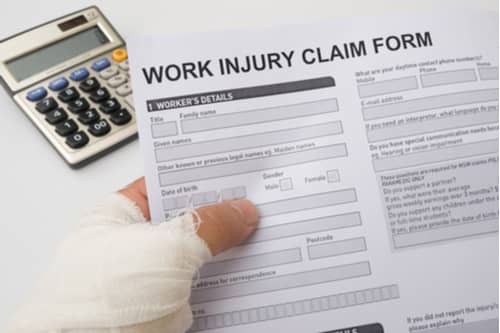 You Can't Return to Work Until You Have Been Cleared by Your Doctor
One of the important things about workers comp is that you aren't allowed to collect benefits and work at the same time. If you have a second job, you can't work at that second job if you're out on workers comp for a workplace injury. The same is true if you try to return to your regular job while still collecting workers comp.
You cannot return to work until your workers' compensation doctor clears you. If you're caught doing this, not only will your benefits terminate, but you may also owe money for benefits already received. You don't want to do anything to risk this happening. If you do, it may not be possible for your Cincinnati workers' compensation lawyer to help you get them back.
Don't Wait Too Long to Meet with a Skilled Cincinnati Injury Lawyer After a Workplace Injury
One of the biggest mistakes people make is waiting too long to meet with a Cincinnati injury lawyer. They wait until something goes wrong and then ask their lawyer to fix things for them. They don't realize that this only makes things harder for their attorney.
If you want a Cincinnati injury lawyer to help you get what you deserve from your workplace injury, don't wait until your claim is denied to hire them. You should be on the phone with an experienced lawyer the day after your workplace accident. This way, you know your claim is going to be handled properly right from the start.
When the insurance company learns that you're represented by an attorney, they're going to take your case more serious. Otherwise, they put your claim on the back burner or try to push you into accepting less than you deserve. Rather than risk this happening, just call our office and set up your free consultation right away. The longer you wait, the harder it may be to prove your case.
Call Our Office and Speak to a Seasoned Cincinnati Workers Compensation Lawyer Today
The last thing you want to do is jeopardize your workers' comp claim. If you don't meet with a seasoned Cincinnati injury lawyer, you could end up with nothing. Your employer may not take the claim seriously and tell their insurance company to deny it. Or they may try to push you into coming back to work sooner than you should.
There's no reason why you should ever return to work before you're fully healed. If your employer is putting pressure on you to come back early, let us know. One of our experienced Cincinnati injury lawyers can contact the insurance company and find out what's going on. They'll also let your employer know that they represent you, so they don't try to take advantage of you.
The best thing for you to do is contact our office on the same day as your workplace accident. If this isn't feasible, make sure to call as soon as possible afterward. The initial consultation is free and you don't pay anything until your case is resolved.