As remote work continues to grow in popularity, more and more employees are finding themselves working from the comfort of their own homes. It's a convenient way to work, but what happens if you're injured while on the job? Do you benefit from workers comp for remote workers?
Proving that your injury is work-related can be a challenge when you don't have physical witnesses around you. This is why it's crucial for remote workers to know how to protect their rights and get the compensation they deserve.
In this article, we will discuss challenges remote workers face when filing for workers comp and why it is essential to contact an experienced Dayton workers comp lawyer.
Remote Work Remains a Top Choice for Employees in Ohio
Remote work has become increasingly popular in Ohio, and for good reason. The benefits of working from home are numerous: no need to commute, a flexible schedule, and the ability to work in a comfortable environment. Currently, a significant number of Ohio employees continue to work from home.
But this poses unique challenges when it comes to workers compensation claims. Unlike traditional office settings where an accident may have multiple witnesses who can testify about what happened, remote workers may be alone at the time of their injury. This can make it difficult to prove that the injury was work-related.
As more people continue hopping onto the trend of remote working across Ohio State today than ever before, being aware of these unique challenges is crucial in protecting your rights. An experienced Dayton workers comp lawyer will help you understand and protect these rights.
Your Employer's Insurance Company Will Claim Your Injury Is Not Work-Related
When a remote worker gets injured, their employer's insurance company may claim that the injury is not work-related. This can be a major obstacle for workers who want to file for workers compensation benefits.
Insurance companies will often try to deny claims by arguing that the worker was not actually working when they were injured. They may also argue that the injury was caused by something outside of work, such as a pre-existing condition or an activity that was not related to work.
This is why you should consult with an experienced Dayton workers comp lawyer who understands the unique challenges faced by remote employees seeking workers compensation benefits.
Here are a few steps to take right after your accident in order to protect your rights:
Call or Email Your Employer Immediately after the Accident
If you experience a work-related injury while working remotely, one of the first things you should do is inform your employer about it. Your employer needs to be aware of the incident as soon as possible to start documenting and investigating your claim.
Calling or emailing your employer immediately after an accident can help ensure that there is a record of the incident. Be sure to provide detailed information regarding how and where the injury occurred.
Remember that time is crucial when reporting a workers compensation claim. A matter of minutes can make the difference between a workplace accident and an accident at home – for which you are not eligible to seek compensation.
Don't hesitate to ask an experienced Dayton workers comp lawyer for guidance if you encounter any issues while filing a claim with your employer's insurance company.
Take Photos of the Accident Scene, Including a Clock or Computer Time
In case of a work-related injury, photos can serve as crucial evidence to support your workers comp claim. This is particularly important for remote workers who may not have witnesses or colleagues present at the time of the accident.
Taking pictures of the accident scene and any visible injuries immediately after the incident occurs is highly recommended. Include photographs that show where you were when the injury occurred, what you were doing, and if possible, capture an image of any equipment or tools involved in causing the injury.
It's also helpful to take photos that show a clock or computer time display. This will demonstrate that you were working at the time of the accident and help prove that your injury was indeed work-related.
Furthermore, be sure to document any hazards or dangerous conditions that contributed to your injuries. For example, if there was spilled liquid on the floor that caused you to slip and fall, take a picture of it so it can be used as evidence in your claim.
By taking detailed photographs right away after an incident occurs, remote workers are better positioned to make their case with employer insurance companies regarding their eligibility for worker's compensation benefits.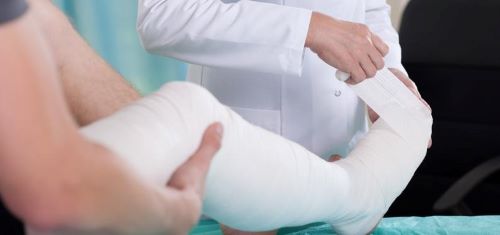 Go to the Hospital as Soon as Possible for Diagnostic and Medical Care
When a remote worker sustains an injury, seeking medical attention should be their top priority. It's important to go to the hospital as soon as possible for diagnosis and medical care. Delaying treatment can lead to complications that could have been avoided.
One of the challenges of being a remote worker is not having immediate access to on-site first-aid or emergency services. This makes it all the more crucial for remote workers to have a clear plan in place in case of an accident.
If your injury requires urgent care, call 911 or head straight to the nearest emergency room. For non-life-threatening injuries, consider visiting an urgent care clinic or scheduling an appointment with your primary healthcare provider.
Remember that when dealing with workplace injuries, time is of the essence, especially when pursuing a workers comp claim while working remotely. Therefore never delay getting yourself checked up and properly diagnosed after sustaining any kind of injury at work!
Having a Designated Home Office Helps Prove Your Workers Comp Claim
Having a designated home office can help you prove your workers comp claim if you are injured while working remotely. When it comes to remote work, the lines between personal and professional life can become blurred. However, having a separate and dedicated workspace can make all the difference in proving that your injury occurred while on the job.
A designated home office shows that you were actively engaged in work-related activities at the time of your injury. It also helps establish that your injury was not caused by any personal activities or distractions.
Talk to an Experienced Dayton Workers Comp Lawyer to Protect Your Rights!
If you've been injured while working remotely, it's important to take the necessary steps to protect your rights and ensure that you receive the workers comp benefits that you deserve. While remote work offers many advantages, it also comes with its own set of challenges when it comes to proving a workers comp claim.
By following the tips outlined in this article you can increase your chances of having a valid workers comp claim.
However, do not forget to seek help from an experienced Dayton workers comp lawyer at Young, Reverman and Mazzei. With our expertise on Ohio's laws around remote worker injuries and compensation claims, we will make sure you get all of the benefits you are entitled to.
We offer each new client a free case review, so don't hesitate to call us: 859-400-0000!