If you have recently been injured in a car accident, you should call and speak with one of our Ohio personal injury lawyers. There's a good chance that you'll be entitled to damages, as long as your personal injury attorney in Cincinnati can prove that the other driver was at fault. In cases where the defendant was an older driver or at least over the age of 65, it may be slightly easier to prove negligence on their part.
Since studies have shown that elderly drivers are more susceptible to being involved in a crash than your average driver, this is something that your personal injury attorney in Cincinnati will bring up. Furthermore, the insurance carrier understands that there is a bias against elderly drivers. This means that they may be more willing to settle your case out of court.
All Drivers Pose Some Risk to Other Motorists
It wouldn't be fair to pretend that only older drivers cause accidents. In fact, according to the Fatal Accident Reporting System, people over the age of 65 are only responsible for 7% of all motor vehicle accidents.
Of course, this statistic is a bit misleading because many people over the age of 65 choose not to drive. In reality, every time an elderly person gets behind the wheel, there is a much greater chance that they'll cause an accident as compared to a regular, adult driver.
One of the other results of this study found that elderly drivers are much less likely to take risks while they're behind the wheel. For example, it is not likely that you'll see an older driver try to pass you in a no-passing zone.
Nor are they very likely to drive through a yellow light at a busy intersection. Part of this is because they are aware that their motor skills have declined. At the same time, they have been driving long enough to know that it's not worth taking these unnecessary risks.
Studies Have Found That Younger Drivers are the Biggest Culprits
As much as a lot of our clients complain about older drivers, it's actually young drivers who cause the most accidents. The same Fatal Accident Reporting System found that people who were between the ages 15 and 24 are 188% more likely to cause an accident than another adult driver.
This means that there are almost twice as many accidents involving young people than there are the average adult. Strangely enough, very few of our clients complain about young drivers. They seem to be fixated on the older ones, especially when the person who crashed into them happens to be over the age of 65.
Many Elderly Drivers Voluntarily Give Up Their Car Keys
We said earlier that the statistics from that report are a bit misleading when it comes to elderly drivers. This is because many drivers stop driving on their own once they reach a certain age. They realize that their driving skills and response time are not what they used to be, and they don't want to put themselves at risk. Nor do they want to put other drivers at risk.
Of the older people who do still drive, very few of them drive at night, and even fewer drive during busy traffic times. They tend to stay off the roads when the weather is bad and prefer back roads to highways. This means that there's a much lower chance that you would encounter an older driver out and about during busy, accident-prone times.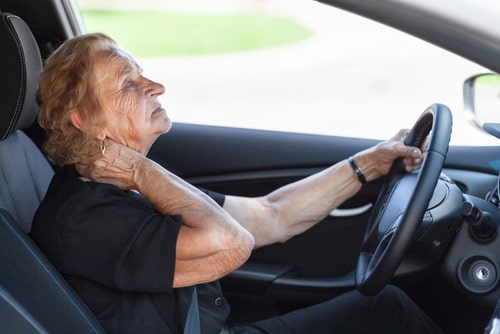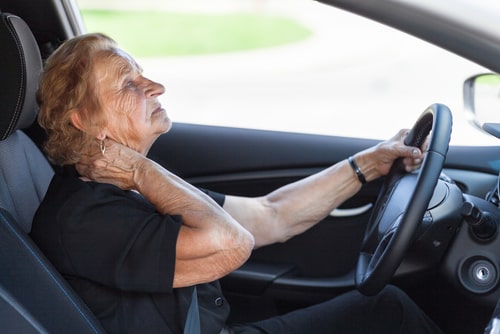 When an Older Driver Does Get Behind the Wheel, They're More Likely to Crash
While drivers over the age of 65 may only be responsible for 7% of all car accidents, that doesn't mean that they are as safe as your average adult driver.
When elderly people do take to the road, they have a 573% greater chance of being involved in a car accident than your average adult driver. This is much worse than the statistics for drivers under the age of 25. They are only 44% more likely than your average adult driver to die in a fatal car crash.
Your Personal Injury Attorney in Cincinnati Will Sue Regardless of the Defendant's Age
If you or someone in your family were injured in a motor vehicle accident, it's a good idea to speak with one of our Ohio injury lawyers. Regardless of how old the other driver was if they were at fault, then you're entitled to damages.
The amount of damages that you're entitled to will change depending on the facts of your personal injury case. When you sit down with your personal injury attorney in Cincinnati for the first time, they will review any information you have related to your car accident.
One of the most important things they will need is a copy of the police report. This report will include pertinent information about the other driver that will help your attorney determine how old they are. If they are exceptionally young or old, it may make it a little easier for your attorney to prove negligence.
Of course, your Ohio personal injury lawyer will still have to prove negligence no matter what. It will just be a little easier if they can submit proof that the other driver has a history of getting into motor vehicle accidents.
Since we offer all new clients a free, initial consultation, you should take it upon yourself to call our office and schedule a date and time to come in. If your injuries are too serious and you're not able to travel to our office, we can always conduct your consultation by phone or by Skype. You can even schedule your consultation through our website.
It's safe to say that the other driver is going to have an attorney representing them and you should too. The last thing you want to do is be at a disadvantage when it comes to settling or prosecuting your case. Since you don't have to pay our firm anything upfront, it's in your best interest to have an attorney by your side throughout the legal process.