Most people are involved in some sort of car accident in their lives. Thankfully, most of these crashes don't result in any serious injuries. Perhaps someone backs into your car in a parking lot. Or you may run into the back of another car at a red light. In cases like this, you probably don't need to hire a Cincinnati car accident lawyer. In other cases, you may not be so lucky.
It can be hard to decide whether to hire a lawyer after your car crash. Part of you may feel like you can handle it on your own. Another part of you knows you need help. The good news is that you can meet with an experienced car accident lawyer in Cincinnati absolutely free. Once you've had your initial consultation, you should have a better idea of whether you should retain counsel.
Here, we'll talk about when you need legal representation and when you can do without it.
You Don't Want to Wait Too Long Before Speaking with an Attorney
If you're not sure whether you need a Cincinnati car accident lawyer, you should still meet with one as soon as possible after your crash. You have no idea whether the other driver's car insurance is going to pay your claim. You also won't know from the outset how serious your injuries are.
By meeting with an attorney early on, you protect your legal rights. Your attorney will review the police report, your medical records, and the damage to your vehicle. They can give you an idea of who they think was at fault. They can also deal with the insurance company on your behalf.
It's in your best interest to meet with a lawyer within a few days of your accident. This way, the incident is still fresh in your mind. This also gives your lawyer a chance to intervene and let the insurance adjuster know you have an attorney. This way, they don't try to take advantage of you.
Your Personal Injury Lawyer in Cincinnati, Ohio Will Deal With the Insurance Company
One of the more frustrating things about your car accident is dealing with the insurance company. Sometimes it feels like even your own insurance company is working against you. This is because insurance companies don't make money by paying out large claims. The longer they can deny a claim, the less it will cost them.
If you don't have an attorney representing you, there's a good chance the insurance adjuster will try to take advantage of you. They may deny your claim thinking you'll wall away. Or they may try to pay out far less than the full amount of your claim. If this happens, you'll be asked to sign a release promising not to come after them for money down the road.
One of the things your personal injury lawyer in Cincinnati, Ohio will tell you is to never sign a release. There is a lot of small print in these releases that most people don't bother to read. They're so eager to get the insurance payout, they just sign the document and submit it to the insurance company.
If you hire a skilled Cincinnati car accident lawyer, they'll make sure you aren't taken advantage of.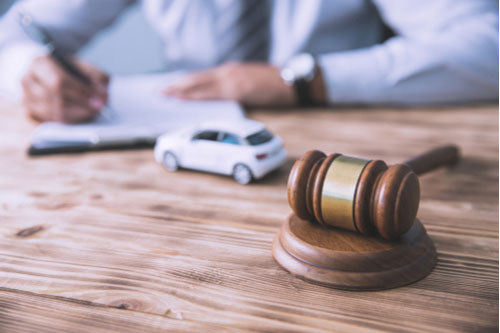 Can Your Cincinnati Car Accident Lawyer Get You More Money?
As we said, never sign a settlement release before your attorney gets a chance to review it. There could be terms in there that unfairly handicap you. By having an attorney there to negotiate a settlement on your behalf, you can rest assured that you'll get the money you deserve.
Personal injury lawyers in Cincinnati, Ohio have years of experience dealing with insurance adjusters. They aren't intimidated by the larger insurance companies. They'll determine what your damages are and push to get as close to that amount as possible. This may include any or all of the following:
Medical Bills – Any medical expenses you incurred as a result of the crash should be covered in your claim. This includes existing medical bills and any future medical bills you may experience. For example, if you need to have long-term physical therapy, your attorney will include this in your demand.
Lost Wages – If you were out of work for a week or longer as a result of your accident, then you should be compensated for this. Of course, you'll have to submit proof of these lost wages. Your attorney can help you do this.
Lost Future Earnings – If your accident is serious and leaves you disabled, you won't be able to work full-time. Even if you can still work, there's a chance you won't be able to do the same kind of work you did before the accident. Your lawyer will gather the information necessary to show how much you would've earned compared to what you'll actually earn.
Car Repairs or Replacement – Depending on how badly your car is damaged, you'll be entitled to repair or replacement damages. If your car just needs to be fixed, you'll submit the mechanic's bills and demand reimbursement. If, on the other hand, your car was totaled, you'll be entitled to the value of a replacement vehicle.
Does Ohio Law Require You to Hire an Attorney to Pursue a Car Accident Lawsuit?
Nobody is legally required to hire a Cincinnati car accident lawyer. There's nothing stopping you from handling your car accident lawsuit yourself. However, be mindful of the disadvantages of trying to do this. Your Cincinnati car accident lawyer knows the law – you don't. The last thing you want to do is find out you missed a deadline or filed the wrong papers.
Another downside to handling the case yourself is that you aren't familiar with the insurance adjustors' tactics. Your lawyer knows how to negotiate a fair settlement with these companies. If you've never had to deal with the red tape put up by insurance adjustors, you can be at a serious disadvantage.
Reach Out to an Experienced Cincinnati Car Accident Lawyer Today
If you've recently been involved in a car crash, you should contact our office today. You don't want to wait too long to meet with an experienced personal injury lawyer in Cincinnati, Ohio. Let one of our skilled lawyers review your case and answer any questions you may have. The initial consultation is free, and you don't pay anything until you settle your case.