As we age, so does our ability to perform certain tasks. Driving is no exception. Whether you're an older driver or have elderly loved ones who still hit the pavement, it's crucial to understand the common causes of elderly driving accidents.
So get ready to learn what you need to know about Ohio law and senior drivers.
Common Causes of Elderly Driver Accidents
There are a number of factors that can contribute to elderly drivers being involved in accidents. These include:
Poor vision: Elderly drivers often have vision problems that aren't corrected by glasses or contact lenses. This can make it difficult to see other vehicles, pedestrians, or obstacles on the road.
Hearing loss: It's not uncommon for elderly drivers to have some degree of hearing loss. This can make it hard to hear sirens or horns, which can put them at risk of being involved in an accident.
Slower reflexes: As we age, our reflexes slow down. This means that elderly drivers may not be able to react as quickly as they need to in order to avoid an accident.
Medications: Many elderly drivers take medications that can cause drowsiness or impair their judgment. This can make it more likely for them to get into an accident.
What Can You Do to Help Your Loved One?
If you have an elderly loved one who is still driving, there are some things you can do to help them stay safe on the road. Here are a few tips:
What Does Ohio Law Say About Elderly Drivers?
Ohio does not require drivers to retake a driving test after a certain age. All drivers who are 21 or older must renew their license in person every four years. A vision test is required when renewing your license in person. Someone who is 65 or older can only apply for a license that expires after four years.
The Ohio Bureau of Motor Vehicles offers Mature Driver Programs designed to help older drivers brush up on their skills and stay safe on the road. Completing the course allows drivers over the age of 60 to receive an insurance discount.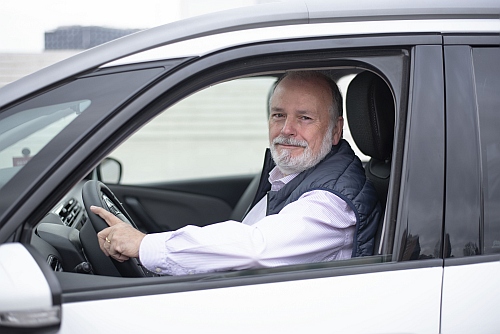 What If You're in a Crash With a Senior Driver?
First, it is important to know that Ohio is a fault state when it comes to car accidents. This means that the person who is found to be at fault for the accident is responsible for the damages caused. If the other driver was speeding, ran a red light, or was otherwise negligent, they will likely be found at fault.
If you were injured in an accident with a senior driver, you need to file an insurance claim. Always consult with a trusted Ohio car accident lawyer before accepting a settlement offer from the insurance company. You need to ensure that you're being fairly compensated for your financial losses and your pain and suffering.
An attorney can help you file a personal injury lawsuit against the at-fault driver. In order to win your case, you will need to prove that the other driver was at fault and that your injuries were a direct result of the accident. An experienced personal injury attorney will be able to help you gather evidence and build a strong case.
You only have two years from the date of the accident to file a personal injury lawsuit in Ohio. So don't wait to contact a lawyer.
What Can You Expect from Working With Our Ohio Car Accident Lawyers?
When you work with our firm, you can expect experienced and compassionate legal representation. Our attorneys have a wealth of experience handling car accident cases. We will work diligently to protect your rights and interests, and we will strive to get the best possible outcome in your case.
You can also expect personalized service tailored to your individual needs. We will take the time to listen to your story and answer any questions you have. We will provide clear guidance and keep you informed throughout the legal process, so you'll always know what's going on with your case. We will use our knowledge and resources to advocate for you every step of the way.
Call Our Offices Today for a Free Consultation!
If you or someone you love was injured in a car crash, our team of experienced attorneys can help. We offer a free preliminary consultation to discuss your case and answer your questions. Call our offices today to get started.