A lot of people assume that, just because they've been in a car accident, they're able to sue the other driver. The truth is that you can't sue anybody if you can't prove fault. Your Cincinnati car accident attorney is going to need to prove the other driver caused the crash. Since it can be hard to prove that anybody is 100% at fault for any accident, this can be harder than you think. And, if you can't prove fault, you certainly won't be able to pursue damages.
In Ohio, you need to prove negligence to show fault. In other words, you need to show that the defendant didn't behave the way a normal person would have in similar circumstances. Your Ohio personal injury attorney is familiar with negligence. It's the basis for just about every personal injury case you file. Here, we'll talk about the elements of negligence.
We'll also discuss how your lawyer can prove negligence in your car accident case. Finally, we'll briefly touch on what can happen if you're also partially at fault. If you still have questions after reading this article, just give us a call. We can schedule you for a free, initial consultation.
What Are the Elements of Negligence?
In order to prove negligence, your Cincinnati car accident attorney will need to demonstrate the following four things:
Duty of Care
Your attorney must show that the defendant owed you a duty of care – In a car accident lawsuit, it isn't hard to prove this element. All drivers owe other motorists a certain duty of care. At a minimum, they must obey all traffic laws. They also have to use common sense.
Breach of Duty
In order to prove negligence, your Ohio personal injury attorneys will need to prove that the defendant breached their duty of care. For example, if the other driver was speeding at the time of the crash, this would be evidence that they breached their duty of care. The same is true if the other driver was arrested for DUI at the accident scene.
Damages
Your Ohio personal injury attorneys will also have to prove you were injured – It isn't enough to show that you were in a car crash. You need to demonstrate that you were hurt. This can be either physical or financial injury.
Causation
You must also show that your injuries were actually caused by the defendant's breach. If the defendant can show that something other than the accident caused your injuries, they'll be off the hook.
Once your attorney has proven these elements of negligence, you can start thinking about damages.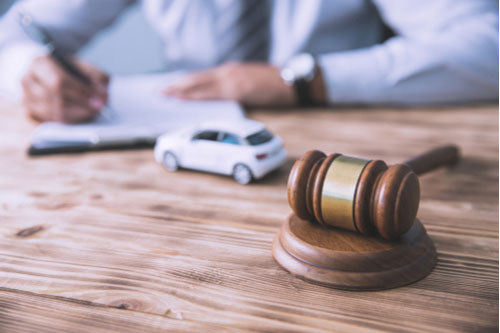 What Kind of Damages Can You Demand in Your Cincinnati Car Accident?
If your Cincinnati car accident attorney can prove negligence, there's a good chance you'll be able to recover damages. There are several different types of damages. Some are economic, such as medical bills, while others are non-economic, such as pain and suffering.
The difference between economic damages and non-economic damages is quite clear. Economic damages include those damages that can be proven using receipts. Non-economic damages do not have a price tag on them.
Depending on the extent of your injuries, you may be entitled to some or all of the following:
Medical Bills
You will be entitled to demand compensation for any medical bills you accrued due to the car crash. This includes out-of-pocket expenses you paid. It also includes any monies your private health insurance company paid toward your care. When you settle your case, you'll have to pay them back.
Future Medical Bills
If your doctor says you're going to need surgery in the future, you can include this in your damages. Your Cincinnati car accident attorney will submit evidence of how much your future medical care will cost.
Property Damage
If your car is damaged or destroyed, you're entitled to compensation. If your car happened to be totaled in the crash, you can demand fair market value for your vehicle.
Pain and Suffering
Depending on how serious your injuries were, you may be able to recover compensation from pain and suffering. Your attorney can submit proof that you experienced a lot of physical and mental anguish because of your accident.
Lost Income
If you missed more than a week or two from work, you could demand damages for lost wages. You can also demand compensation for any lost future income.
For example, if you're no longer able to work because of the accident, you may end up on disability. You're entitled to the difference between what you would've earned compared to what you will earn on disability. Then you'll multiply this differential by the number of years you had left to work.
Can Your Cincinnati Car Accident Attorney Help if You Were Partially at Fault?
As mentioned earlier, it's very rare that one driver is 100% at fault for an accident. Even if the defendant is the primary cause of the crash, you may have contributed to it. In Ohio, they follow something called the comparative fault rule. Under this rule, your damages can be reduced by your percentage of fault.
Let's look at an example. Imagine that your total damages for a rear-end car accident case are $200,000. Typically, the rear driver is always at fault in this type of accident. However, the defendant can prove that your brake lights were not working at the time of the crash. You may be found 20% responsible for the crash. If this is the case, your damages will be reduced by 20%. Your damages will go from $200,000 to $160,000. This is because 20% – or $400,000 – will be reduced.
Contact an Experienced Ohio Personal Injury Attorney Soon
If you've been injured in a car accident, you may have a claim for damages. The only way to know for sure is to talk to an experienced Ohio personal injury attorney. You can take advantage of your free, initial consultation. Sit down with someone who's handled cases like yours before. They know what it takes to prove your car accident case.
We recommend that you reach out to our office as soon as possible after your accident. In order to prove fault, your attorney needs as much time as possible. They'll need to review your documentation and interview whatever witnesses they can find. Since your initial consultation is free, you have nothing to lose. Plus, you don't have to pay anything until your case settles.