Almost every Cincinnati accident attorney has heard about somebody who was driving with a suspended license. Perhaps you forgot to pay a parking ticket and have no idea that your license has been suspended. Or you may have run into some other trouble and thought it had all been resolved.
The next thing you know, you're getting into an accident with another vehicle. You call 911, despite the fact that you're afraid of what will happen when they arrive. You think you're doing the right thing. Before you know it, you're being issued a ticket and the officers tell you they have to take you down to the station.
Understandably, your primary concern is dealing with the suspended license issue. But you don't want to forget to call a Cincinnati auto accident lawyer. They can get started on your accident claim while you straighten things out with the Ohio BMV.
Here, we will discuss what happens if you get into an auto accident while driving a suspended license. Despite what you may think, just because you don't have a valid license, that doesn't mean you aren't entitled to compensation. Odds are, your suspended license had absolutely nothing to do with the accident itself.
The best thing to do is to call and speak with one of our Cincinnati accident attorneys as soon as possible. They can help sort out your insurance claim while you focus on clearing up the suspended license issue.
It Is Against the Law to Drive With a Suspended Driver's License
In Ohio, as it is with other states, it is against the law to drive with a suspended license. It doesn't matter why your driver's license was suspended. Until you resolve the issue and pay your reinstatement fees, you aren't supposed to get behind the wheel. Unfortunately, if you're like most people, you can't afford to not drive. You have to get to work or you won't be able to pay to get your license fixed.
You also need to take care of your family. You hope that you won't get pulled over before you get your license straightened out. The last thing you expect to happen is to get into a motor vehicle accident. Not only will you have to deal with your damaged vehicle and injuries, but you're also going to get in trouble for driving while suspended.
Your Cincinnati Auto Accident Lawyer Will Treat It Like Any Other Car Accident Lawsuit
While it is true that it's illegal to drive on a suspended license, that doesn't change the fact that you've been injured in a car crash. Our Cincinnati auto accident lawyers would treat your case the same way they handle any other car accident lawsuit. They still need to prove that the other driver was at fault. They also need to prove your damages.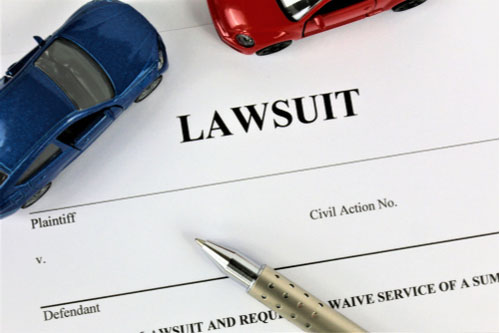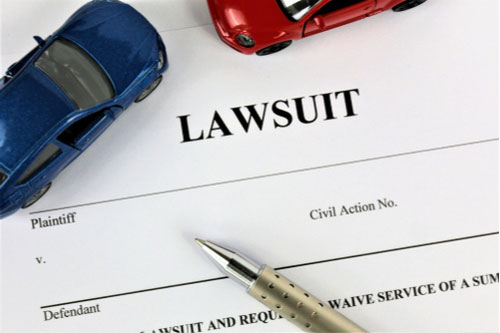 The fact that you were technically driving without a valid license doesn't absolve the defendant of liability. In fact, aside from the fact that your license was suspended, you may have had nothing to do with the accident. Of course, the defendant won't see things that way. Nor will the insurance company. They may deny your claim, arguing that you were in violation of the law and therefore not entitled to compensation.
Will the Defendant Be Able to Claim That You Were Partially at Fault?
In most of the auto accident cases we handle, the defendant or the insurance adjuster will argue that our client was partially responsible for the crash. This is nothing new. However, if the only basis they have for this argument is your license being suspended, it shouldn't affect your case. In Ohio, drivers who are partly at fault for their crash can still collect damages. As long as you are less than 50% at fault, you can still sue.
It would be a surprise if the court found that you were partially at fault simply because your driver's license had been suspended. In most cases, if not all, the status of your license has absolutely nothing to do with your accident. Of course, your Cincinnati accident attorney will have to argue this point. They will supply whatever evidence they have showing that the other driver was at fault.
Your Cincinnati Accident Attorney Still Needs to Prove Fault
As stated above, your Cincinnati auto accident lawyer will still have to prove your case. They will need to demonstrate that the defendant was negligent. This means they need to show that the other driver owed you a duty of care and that they breached it.
It's easy enough to prove a duty exists. After all, all drivers owe a certain duty of care to other motorists and pedestrians. Showing they breached it is the hard part.
Your Cincinnati accident attorney will have to submit proof that the defendant didn't behave the way a reasonable person would have given the circumstances. Your lawyer will also need to show that you were injured and that your injuries were caused by the defendant's behavior.
You Also Need to Prove Your Damages
As with any other case, your Cincinnati auto accident lawyer must also prove your damages. In most of the car accident cases we handle, our clients are entitled to some or all of the following:
Reimbursement for medical bills and future medical bills
Lost wages and lost future income
Property damage
Pain and suffering
Since every case is unique, there's no way to know upfront what you'll be entitled to.
Make Sure You're Upfront and Honest with Your Cincinnati Auto Accident Lawyer
If you have been involved in an auto accident while driving on a suspended license, you should contact our office. It's important that you talk to a seasoned Cincinnati accident attorney as soon as possible after the crash.
While you deal with the suspended license at the BMV, your attorney will handle your car accident claim. We offer all new clients a free, initial consultation. You won't have to worry about paying anything upfront. We only get paid once you get compensation.