If you've been involved in a car accident, there's a good chance you suffered some injuries. This means you've probably received medical bills for thousands of dollars. There's no reason why you should have to pay these bills. If the other driver was responsible for the crash, they should also be responsible for your out-of-pocket expenses. The best way to make sure they're held accountable is to hire an experienced car accident lawyer in Cincinnati. They'll fight to get you as much money as possible.
One thing that's hard to explain to some clients is that they're not automatically entitled to damages. If you weren't hurt in the crash, you can't expect to sue the other driver. Your personal injury attorney in Cincinnati can review your case and give you an idea of how much it may be worth. There's always the chance you won't be entitled to anything. If you weren't hurt, there's not much your lawyer can do for you. Of course, if your vehicle was damaged or destroyed, you're entitled to compensation for the repairs. However, if your claim is that small, there's a good chance the insurance company would have already paid it.
Here, we'll talk about what kind of damages you can demand in your car accident lawsuit. We'll also discuss what your attorney must prove in order for you to collect these damages. If you still have questions after reading this article, feel free to contact our office. You can schedule your free, initial consultation right over the phone.
Your Car Accident Lawyer in Cincinnati Must Prove Your Case First
Before you can even think about what kind of damages you can collect, you must prove the other driver was at fault. This will require you to prove negligence. Negligence is just another way of saying the defendant didn't behave the way they should have given the situation.
In Ohio, there are four elements of negligence. Your personal injury attorney in Cincinnati must prove all 4 elements if you want to get paid. They include:
Duty of care
Breach
Injuries
Causation
When it comes to proving the defendant had a duty of care, it isn't all that difficult. In a car accident case, the defendant always has a duty of care. At a minimum, they have to obey all of the local traffic laws. If they fail to do this, then they will be in breach of that duty. This means your attorney just has to show that they violated one of Cincinnati's traffic rules.
In addition to proving that the defendant breached their duty of care, you must also prove damages. This means you have to demonstrate that you were injured. The best way to do this is with your medical records. This is why we always tell our clients to go to the hospital immediately after a car accident.
Once you prove that you were hurt, you'll have to prove causation. This means you have to demonstrate that your injuries were directly caused by the defendant's behavior. For example, if you have whiplash, there's a good chance it was caused by the crash. If, however, you have some other medical condition, the defendant may argue you had it before the accident even happened.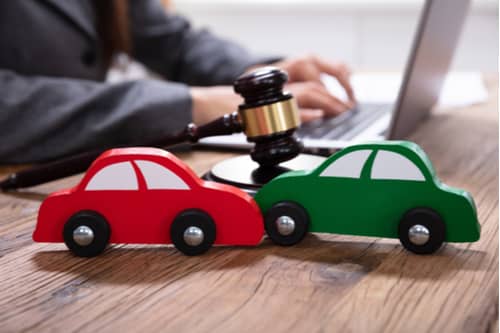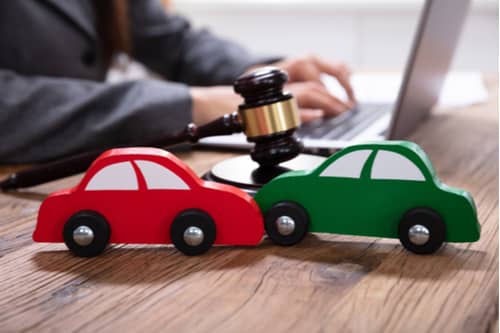 Once You Prove Negligence, You'll Have to Prove Damages
Now that your car accident lawyer in Cincinnati has proven fault, they can work on proving your damages. In Ohio, you're eligible to collect several different types of damages. These include the following:
If you accrued medical bills as a result of your accident, you could demand compensation. This includes everything from the ambulance ride to prescriptions. It also includes any future medical care you may need. Your doctor will let you know if you'll need further treatment. If so, your attorney will estimate how much this care will cost and include it in your damages.
If you're out of work for more than a week or two, you can demand compensation. Your personal injury attorney in Cincinnati will submit copies of your payroll records to demonstrate how much you've lost.
If your injuries are serious, you'll likely be out of work for a while. In addition, you may not be able to work again. If that's the case, you'll end up on disability. You can demand compensation for the difference between what you would've earned at your old job and what you'll receive on disability. Then your attorney will multiply this amount by the number of years left until retirement.
Most car accident victims are able to collect some money for pain and suffering. These damages are meant to compensate you for any physical or mental anguish you suffered as a result of the crash. The general rule is that you'll demand pain and suffering worth three times your medical bills.
If your vehicle was damaged or destroyed in the crash, you should be reimbursed. You can demand the money it cost to repair your car. If your vehicle was totaled, you'll be entitled to the fair market value of your car. This is not the same as the cost of replacing your vehicle.
There's a Good Chance Your Personal Injury Attorney in Cincinnati Will Settle Your Case
Most personal injury cases settle long before trial. Trials are expensive and time-consuming. Nobody wants to go to trial. Once your claim is filed, your personal injury attorney in Cincinnati is going to negotiate a settlement with the defendant. They'll make sure your settlement covers your out-of-pocket expenses. Just don't expect to receive a ton of money. It's your lawyer's job to make you whole. It's not their job to make you rich.
All you have to do is call our office and schedule your free, initial consultation. You can sit down with somebody who knows the law. Our attorneys have decades of experience handling cases just like yours. And since the consultation is free, you have nothing to lose.
Once your attorney has had a chance to review your case, they'll give you an idea of what your case is worth. They can also explain how the process will work. You can bet the defendant will have a lawyer on their side. You should have one by your side as well.
Call today and set up a date and time that works for you.