Most people have either been involved in a car accident case or know somebody who was. It can be an extremely painful experience. Not only do you have to deal with the physical pain. But you'll also have to contend with the red tape involved with getting your car insurance claim paid. That's why some of the best auto accident lawyers in Cincinnati work at our firm. Their goal is to make life easier for you while also getting you the compensation you deserve for your car accident case.
Are You Legally Required to Hire a Cincinnati Injury Lawyer for a Car Accident Case?
If you pay attention to the television commercials featuring Cincinnati injury lawyers, you may be under the impression that you have to hire an attorney for a car accident case. There's no law that says you need to retain one of the best auto accident lawyers in Cincinnati. You can certainly handle your car accident case by yourself. It may not be the best idea, but you are allowed to do it.
Some of the disadvantages to handling your own auto accident claim include:
The Insurance Company May Put Your Claim on the Back Burner.
You have no idea how many claims car insurance companies receive every day. They tend to prioritize those claims that are being handled by an attorney. They may put off replying to your calls and emails if you don't have legal representation.
You May Be Pressured into a Settlement for Less Than You Deserve.
Your Cincinnati injury lawyer will fight to get a settlement that covers all your damages. If you don't have an attorney, the insurance adjuster will pressure you to accept less than you deserve. Make sure you don't sign a settlement release before one of the best auto accident lawyers in Cincinnati gets a chance to review it.
You Risk Having Your Case Dismissed.
The courts in Ohio are very strict when it comes to filing a civil lawsuit. There are specific forms that need to be submitted and fees that need to be paid. If you miss any of these requirements, your claim will be dismissed. Cincinnati injury lawyers know all of the rules and requirements. They'll make sure your lawsuit is filed properly and in time.
Your Cincinnati Injury Lawyer Will Gather the Evidence Needed to Prove Your Case
If your insurance claim is denied, then you'll have no choice but to take legal action. You'll need to file a lawsuit against the other driver and their insurance company. You may need to pursue multiple parties if it was a multi-vehicle crash. It's a good idea to have an experienced Cincinnati injury lawyer by your side when you do this.
Your attorney is going to have to gather evidence to prove your case. This could include any or all of the following:
Copy of the Police Report
There is valuable information in the police report. It includes the names and contact information of the other driver involved. It also has contact information for any eyewitnesses. Depending on the amount of physical evidence you have, you may need to rely on these witnesses to prove the other driver was at fault.
In addition, this report will include a description of the accident scene and road conditions, pictures of the vehicles, and documentation of any tickets that were given out at the accident scene.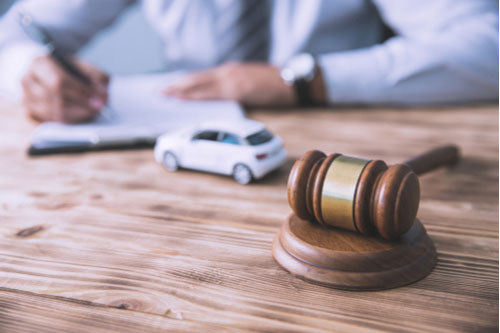 Expert Witnesses
You may need to hire expert witnesses to prove fault. For example, the best auto accident lawyers in Cincinnati know when they're in over their head on causality. They may need to retain an accident reconstruction specialist to prove who caused the crash. They may also need to rely on medical experts to demonstrate how serious your injuries were.
Proof of Damages
The most important part of your lawsuit is damages. This is the only way you can be compensated for your injuries. Your Cincinnati injury lawyer will do what it takes to prove that you're entitled to compensation.
Your Car Accident Lawyer Will Try to Negotiate a Settlement on Your Behalf
Just because you file a lawsuit, that doesn't mean you'll have to go to trial in your car accident case. More than 95% of all personal injury cases in Ohio settle long before trial. Nobody wants to go to court if they don't have to.
Some of the advantages to settling your Cincinnati car accident lawsuit include:
You don't have to worry about losing in court – If things go downhill, you could lose your case. If that happens, you'll get nothing.
Trials are expensive – Any money your attorney spends at trial comes out of your award for damages. Rather than waste money, it makes sense to settle.
Trials can take months or even years to come to fruition – The longer you wait for a trial, the longer you wait for your money. With an out-of-court settlement, you get your money upfront in a lump sum. Once your Cincinnati injury lawyer takes out their fee, the rest is yours.
Given the numerous advantages of settling, it makes sense to retain one of the best auto accident lawyers in Cincinnati.
Contact a Seasoned Cincinnati Injury Lawyer Sooner Rather than Later
If you decide you want to take advantage of hiring a seasoned Cincinnati injury lawyer, there's no time like the present. The longer you wait to hire an attorney, the harder it will be for them to prepare your case. In Ohio, you only have 2 years to file your claim. This is because the Ohio statute of limitations is very strict.
You can count on your attorney to make sure your complaint is filed in time. All you have to do is call our office and set up a date and time that works for you. Come in for your free, initial consultation and at least see what our attorney has to say. There's no rule that you have to decide whether to hire counsel right away. However, it is a good idea to get started as soon as possible so you don't waste time or lower your chances of recovering full damages.